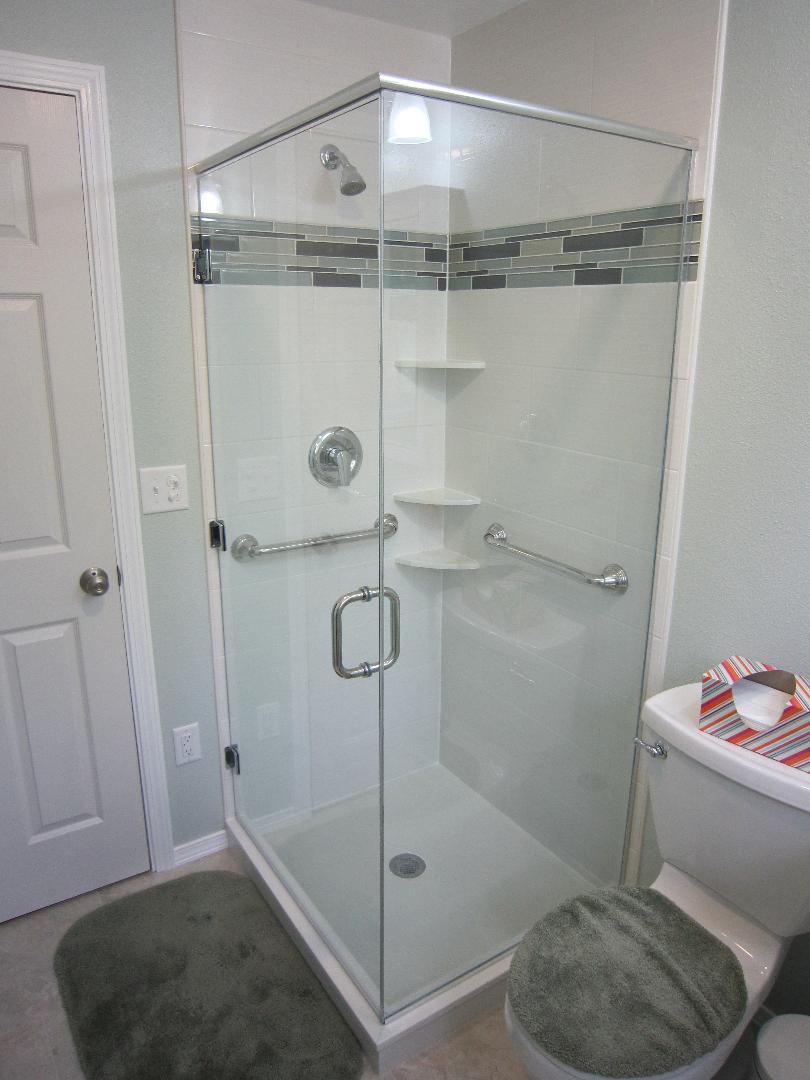 Are you tired of the constant battle to keep your shower door clean from hard water and soap scum? You've probably tried every cleaning product under the sun, but you are still fighting an uphill battle. Under a microscope, untreated shower door glass has a rough surface with many peaks and valleys, even though the human eye and hand perceive it as smooth. It's no wonder how easy it is for hard water spots and soap scum to stick. Regular use of harsh cleaning products trying to remove the unsightly staining only contributes to and accelerates the process all over again, etching the glass permanently. Wouldn't it be nice to not have to clean your shower door as often all the while using less effort? In order to keep your shower door looking brand new, a few options are available in the fight against hard water spots and soap scum from day one.
The first is called Easy Clean 10. This is an ultra-thin transparent glass coating that completely adheres to the surface. It repels water and oil-based stains allowing for easy clean-up with water and a mild detergent. Harsh scrubbing with toxic chemicals is no longer needed since this coating cuts down on the build-up from the start. This option comes with a 10-year warranty. At a bare minimum your shower door should have this coating; think of cooking with a non-stick frying pan today vs. a cheap steel frying pan with no special coatings.
The second option is ShowerGuard from Guardian Glass. This coating is applied during the manufacturing process with their magnetron sputtering technology, which fuses the protective coating to the surface. Now an actual part of the glass, this coating is a one-time investment and is ultra-resistant to hard water and soap scum, virtually making the glass non-porous and smooth. A wet sponge with a mild cleaner like Soft Scrub is all that's needed to maintain the crystal-clear look of your shower door. No more heavy scrubbing and toxic cleaners that have you coughing and gasping for fresh air. Backed by a lifetime warranty, ShowerGuard is a leader in permanent glass protection.
Both of these invisible coatings come applied from the manufacturer and are a single application product. Temporary spray-on coatings are available aftermarket for existing shower doors, but they need to be applied time and time again and cannot match the durability and effectiveness of these permanent coatings. You spent a lot of time and money picking out your shower tile and fixtures, make sure you can see them for years to come with a quality shower door glass coating.