Liberty Lake Tub Swap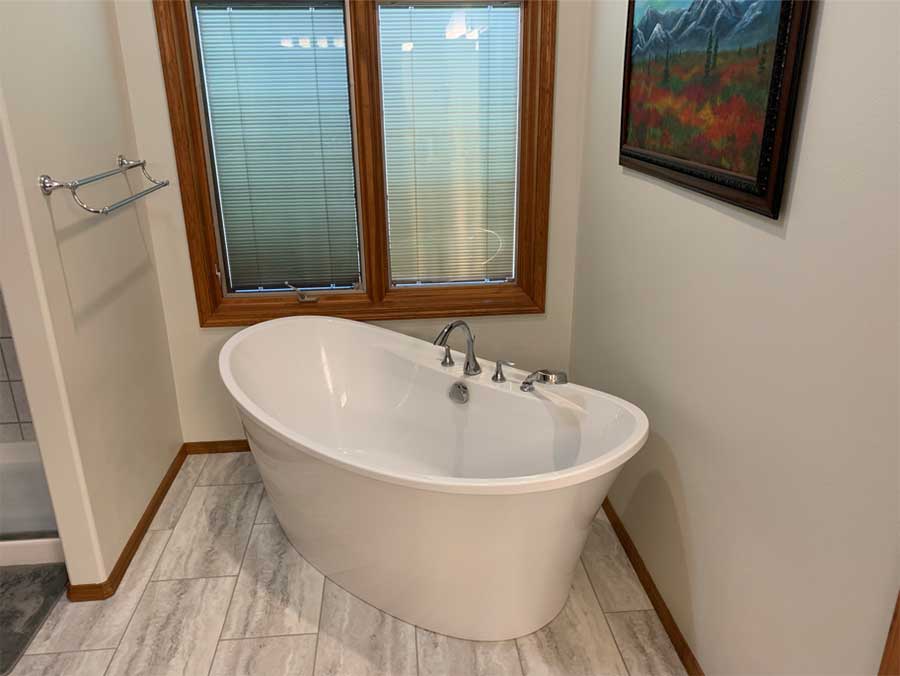 $14,000 - $18,000
A sunken whirlpool tub might sound luxurious on paper, but the practicality doesn't add up. In order to clean the tub, you either have to be in it or just about stand on your head to reach down inside. When you also consider the huge tripping and falling hazard it presents, not only getting in and out but also general day-to-day traffic in the bathroom, it becomes a huge liability. Unfortunately, our customer experienced all the above, so it was time for a change.
If you notice the blue tape in the before pictures, that is where we had the tile and adhesive tested for asbestos, along with the vinyl floor. Even though this house was built in 1997, asbestos has never been outlawed in building materials. Therefore, to remove certain materials, we must have them tested for asbestos. In this case, we didn't find any and got the green light to proceed.
With the old tub removed, the floor was framed in, and Baltic birch plywood underlayment was laid in preparation for the new LVT floor. Our customer chose an elegant 12" x 12" travertine luxury vinyl tile to replace the old sheet vinyl floor. The new 66" freestanding tub is hard to miss as you enter the room. Topped with a two-handle high arch Roman Tub faucet, the new soaker tub provides a great way to relax at the end of the day.
---